Directique sets forth, from the habits of your clients, to help you attain your quality objectives and help you optimize the balance between client satisfaction and production costs.
From on the ground measures to the consulting level
Quality and Satisfaction
Directique intervenes at all three levels to accompany its clients, to discern and integrate the link between the quality of service produced and the client's satisfaction :
Managing studies of satisfaction
Establishing and following focus groups
Consulting
QoS via client vision
The studies of satisfaction and the client's study habits help to better define ad hoc studies on the service quality via client vision, and define tests to carry out.
Directique takes into account the maturity of the services in its life cycle and the impact on cost.
In practice, the studies are carried out with the client's pure vision or combined with the technical studies.
Several methods of collecting data can be implemented to measure the quality of service via the client's vision, according to the need and according to the resources allocated to the study :
Ad-hoc measuring campaigns
Measures carried out
Focus Groups
Crowd sourcing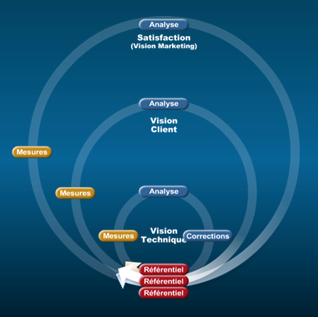 Realize quality measures
Directique takes charge of the entire body of quality measures, together with the client's vision as well as from a technical standpoint, the objective is to synchronize the data to optimize the interpretation of the results and to identify useful corrective actions for the technical teams. These measures understandably are :
Validation of new service (accordance checks)
Non-regression
Benchmark
Drive tests
Inter-workings
Mystery tests
Etc.
Deliver results
Directique adapts itself to the needs of its clients even in the form of the delivered result :
Crude and post-treated results over a client's dedicated portal
Analyzed and synthesized results : study reports, presentations and synthesis documents
Consultation – Quality Circle
Thanks to its expertise, Directique audits and helps the optimization of the entire quality process for its clients :
Scores of teams over the tasks at hand adding value to the client
Side by side technical and marketing teams for a more global efficiency
Quality at a better cost, notably followed by the adjustment of the measures rhythms